Welcome to Peter Peru's Extreme Film & Expedition School
Do you want to learn how to make real adventure movies?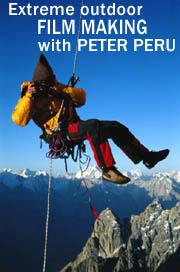 If you have a digital video camera, are an advanced skier, snowboarder or free heel enthusiast, willing to do some hiking for your turns, learn some backcountry skills, along with expert training in extreme and general outdoor mountain filmmaking ... then this school is for you!
Peter "Peru" Chrzanowski is an award winning, veteran, extreme filmmaker of 25 years experience in addition to being a full DGC (Director's Guild of Canada) member.
Peter is now offering the worlds first and only extreme filmmaking workshops. Intensive one-week sessions will take place at some of the world's best ski resorts and backcountry locations including:
Whistler / Blackcomb / Pemberton
Golden / Kickinghorse Mountain Resort
Rogers Pass
Coming to Various International Ski Resorts near you
Program covers all aspects of making
an extreme film and/or video:
Conception- scripting / storytelling
Fundraising / Sponsorship
Production
Post Production
Marketing/Advertising/Public Relations /Distribution