(Peter Chrzanowski)
CREDIT: The Province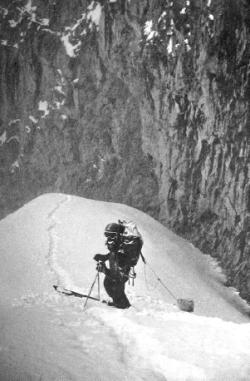 Peter Chrzanowski made a name for himself in Peru, filming a ski descent of the country's highest peak Huascaran and later falling 2,000 feet down another of the country's mountainsides.
CREDIT: The Province
The crowd hoots, hollers and whistles as the lights go down at Packers Place Pub in the small mountain town of Golden. Usually those cheers are reserved for the once-a-week stripper at another bar just down the street.
But tonight the approval is directed towards a screen where the story of Golden's bumpy transition from forestry to tourism --from trees to skis -- is being shown.
A beatific smile crosses filmmaker Peter Chrzanowski's face as the audience quietens and the opening scenes of his latest movie, Goldenrush, flash up on the screen.
Despite plans for entering the flick in international film festivals, this crowd will be Chrzanowski's toughest.
"It's about this little town called Golden," says Chrzanowski. "It's like telling a fairy tale."
Out back of the pub, where the smokers and tokers congregate, there is a view of the snow-clad mountains that surround this bucolic town. To the east are the Rockies, which played a big part in Golden's past, and to the west, the Purcells, which are home to Golden's future -- in the form of a ski resort called Kicking Horse.
I first met Chrzanowski in this pub during the winter of 2000-2001. I had been living in Golden for a year and it was an exciting time because a brand-new ski resort -- the first one to be developed in Canada in the past 20 years -- was on the verge of opening.
Well, Kicking Horse isn't exactly a brand-new ski resort. It's an expansion of a small community-owned ski area called Whitetooth, which was sold to developers in the late 1990s.
Golden had just been through one its more trying times. In 1996, the town's major employer, the mill, shut down. Golden was sent into an economic tailspin but it still had Whitetooth.
A Vancouver resort developer brought together a multi-national Dutch construction company (the same one that built the Confederation Bridge between New Brunswick and P.E.I.) with a couple of other investors and presto! -- a ski resort was born overnight.
Actually it took a summer, but the transformation was drastic. Instead of an old chairlift, T-bar and 1,700 vertical feet of skiing, the newly named Kicking Horse resort would offer a new gondola, quad chair, day lodge, mountaintop restaurant and 4,000 vertical feet.
And like other B.C. resorts, Kicking Horse attracted ski bums, developers, speculators and other assorted hangers-on to this latest gold rush.
"Young people started moving into town and Golden was open and accepting," says Chrzanowski. "Not all small towns are like that."
But one thing was clear, Golden did not want to become another Whistler. That's why Chrzanowski decided to chronicle the town's transformation.
Chrzanowski has a long history of making ski flicks. He made his first film at age 20 in 1978. It documented the descent of Peru's highest peak, Huascaran, by a team of French extreme skiers.
That film would change Chrzanowski's life. A year later, he returned to Peru with a partner to attempt a first ski-descent of the 20,000-foot Mount Ranrapallca.
A few turns into the descent, Chrzanowski lost an edge and cartwheeled more than 2,000 feet down the icy mountainside. The fall was so violent that it ripped the ski boots off his feet. Chrzanowski finally came to a rest, barefoot in a crevasse.
He was rescued by his partner but Chrzanowski spent three weeks in hospital recovering from an assortment of injuries. The incident left Chrzanowski with two nicknames that are still used today: Peter Peru and Peter Should-Not-Ski.
(He has also been called the Jack Kerouac of ski bums in the media because of his itinerant lifestyle.)
Chrzanowski moved to Whistler and through the 1980s went on to record several considerable first descents in the Coast and Rocky mountains, including Waddington and Robson, two of Canada's biggest and baddest.
During that time, he also enrolled in filmmaking courses at Simon Fraser University and went on to make 16 films over a period of 25 years.
Chrzanowski's more notable titles include The Spirit, a tribute to dead ski mountaineer Trevor Petersen; The North Face, a chronicle of his own obsession with Mount Robson; and Valdez Goes Extreme, a story about the transition of an Alaskan resource town (remember the Exxon Valdez oil spill?) that somehow became the Mecca of extreme skiing.
Goldenrush is similar to the Valdez story.
"They're both blue-collar towns," says Chrzanowski. "Valdez really benefited from skiing. It opened the town to the world."
Is Golden next? Chrzanowski seems to think so. "The terrain and skiing are some of the best in the world," he says.
Chrzanowski spent three years on Goldenrush and accumulated more than 60 hours of footage, which was spliced with archival footage of Golden's mountain town heritage -- one that goes back to 1899 when the Canadian Pacific Railway stationed Swiss mountain guides in Golden, halfway between its tourist hotels in Lake Louise and Rogers Pass.
A more subtle subplot is how the town deals with economic, social and environmental change.
Goldenrush, however, could become more than a movie. It could become a lesson for small towns across B.C. with big dreams of tourism and resort development.
"I really wanted to stir people to think," says Chrzanowski. "And hopefully, I did that."
- Goldenrush will be making its West Coast premier April 21 at Buffalo Bill's in Whistler during the World Ski and Snowboard Festival.
- For more information about Chrzanowski's films and Peter Peru's Extreme Film and Expedition School visit www.explorex.net
gbethel@png.canwest.com