Magazine Articles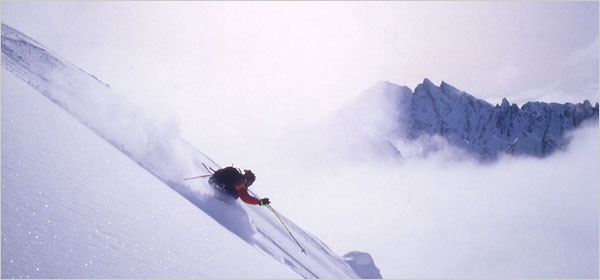 "Extreme Sports Vault Onto the Big Screen" The New York Times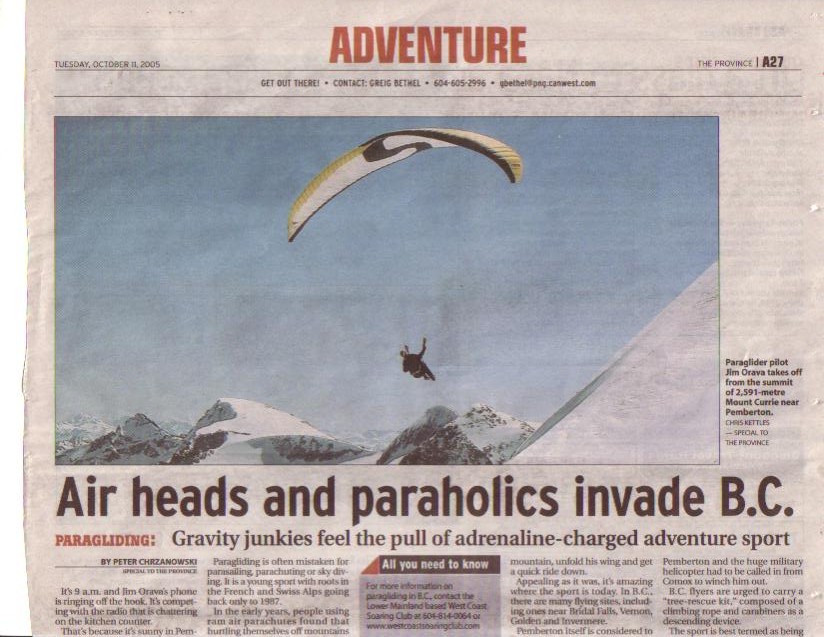 Air heads and paraholics invade B.C.
OK, letís dispense with all the myths and head-shaking about Peter Chrzanowski, a.k.a. Pete Chernobyl, Peter Peru, and the pejorative fave, Pete Should-Not-Ski......
Peter Chrzanowski Mentor and fomenter
Thursday, April 15, 2004
Movie follows Golden's silver lining
Greig Bethel The Province
From

by Doug Ward
HEADLINE Extreme skier has had more than nine lives: Against all the odds, Peter Chrzanowski has lived to make films and inspire others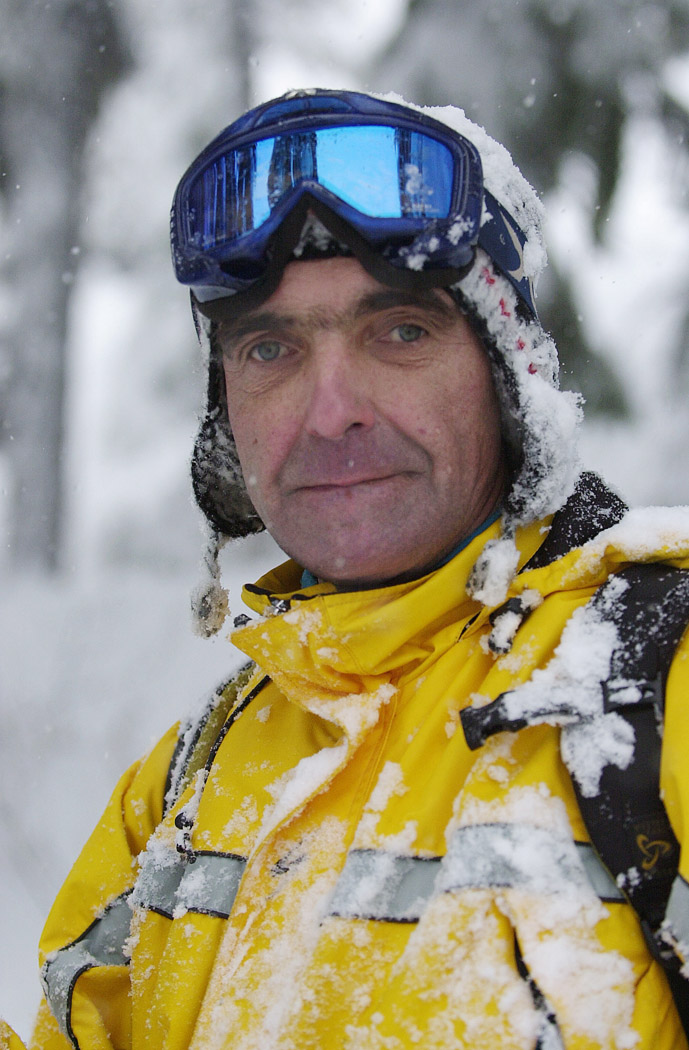 WHISTLER - Defying the laws of probability at the heart of extreme skiing, Peter Chrzanowski is not dead.
Others who've duelled with mortality on vertigo-inducing slopes have perished -- many of them his friends. But Chrzanowski, a 46-year-old veteran extreme skier and filmmaker, lives. "We say he's got nine lives. Or more than that. More lives than a cat," said Beat Steiner, who has accompanied Chrzanowski on many ski adventures.

Chrzanowski was in Whistler recently, distributing leaflets plugging his coming workshops on how to make and market extreme ski movies.
It was here that Chrzanowski developed a reputation in the early '80s as a pioneer in the big-mountain free skiing movement, otherwise known as extreme skiing.
"Peter is one of a kind," said Nigel Protter, a Pemberton resident who skied with Chrzanowski in the '80s.
"He brought to North America the notion of extreme skiing. He was the conduit. People had been skiing steep stuff before but there wasn't this kind of a quest to it.
"Peter helped turn it into a discipline, though I hate to use the word discipline in relation to Peter."
Following the example set by a vanguard of French ski alpinists, Chrzanowski and other skier friends from Whistler embraced an approach of first climbing, then skiing, down mountain slopes that had rarely, if ever, been skied before.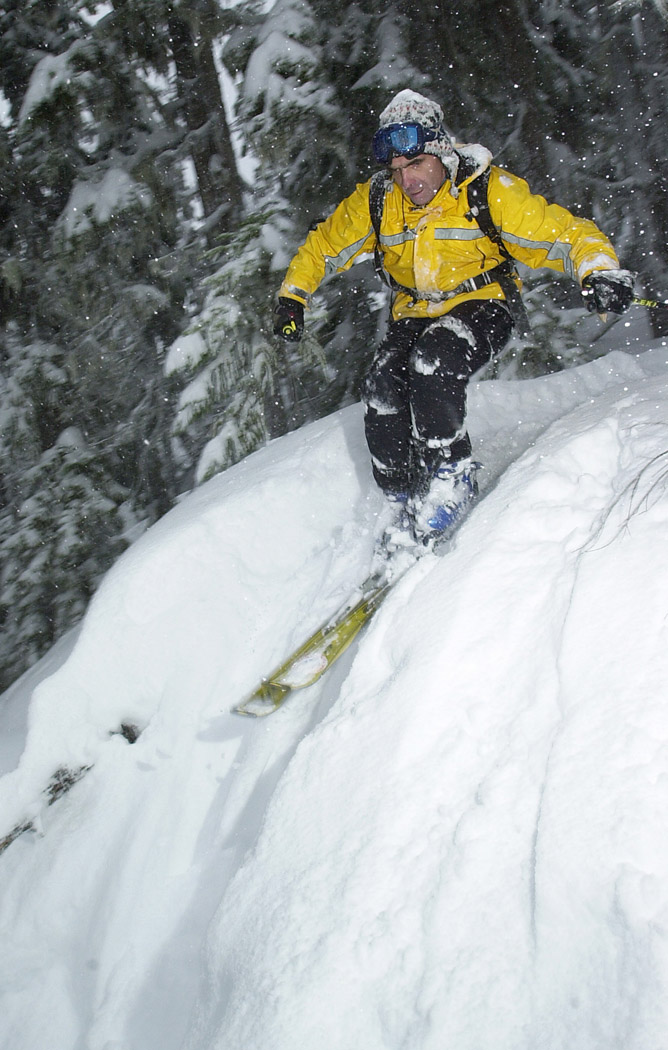 "I love being in the mountains and I love skiing. So when I discovered that you could climb mountains and ski down them, I knew that's what I wanted to do."
What set Chrzanowski and his daredevil ski-bum mates apart wasn't just their penchant for first descents or tackling impossible runs. It was their determination to capture it on film.
They popularized extreme skiing not just by doing it, but by shooting it.
Many of these original extreme skiers have since died or moved on to more leisured, middle-class lifestyles. And many younger film-makers have come along and eclipsed Chrzanowski as a chronicler of Kodak courage on treacherous slopes.
But Chrzanowski still lives to ski and film in the high alpine.
He dismisses any suggestion that extreme skiing -- or extreme sports in general -- involve a death wish or a degree of recklessness that proves Darwin was right.
"A little calculated risk is good for everybody so we don't lead mundane lives," said Chrzanowski. "If a fatal accident happens, I'd rather die out in the mountains than crossing Granville Street."
His life may not be boring, but his financial state is as precarious as it was when he was a young ski bum starting out. There's a dissident streak to Chrzanowski, who is more Jack Kerouac than Jean-Claude Killy.
"He hasn't taken on a mortgage or become a yuppie," said Steiner of his friend.
Indeed, most years, Chrzanowski's income is barely above $10,000. "I'm officially under the poverty line but I live a very good life. I make money but I don't make profits. Everything goes into the films and the films are my lifestyle."
His resume includes many first-descent expeditions plus 14 adventure films that mostly chronicle the extreme edge of skiing and mountaineering.
"He's doggedly pursuing that whole mountain ethos to this day," said Protter. "We all like to get out there. But Peter is still on a mission."
Not everyone in the small sub-culture of ski mountaineering or extreme skiing is as complimentary. Chrzanowski has a controversial reputation for launching expeditions that skirt, or sometimes end up, in disaster.
Powder Magazine, in a 1996 profile, called Chrzanowski's penchant for high-risk explorations "The Peter Principle" and explored how Chrzanowski's "ambitions would often exceed his resources in many cases ending in disaster."
Chrzanowski is known by various nicknames, including Peter C. Peru and Peruvian Pete, references to his ski mountaineering in the '70s on peaks in Peru.
But the nickname given Chrzanowski by his critics is Peter Should-Not-Ski.
His friends say the criticism is unfair and overlooks his early role in popularizing extreme skiing in North America.
"He became the poster boy for bad behaviour in the mountains, for bringing people to places they should not be," said Protter.
"But I don't think that's his fault. I don't think he misled anybody. It's not like they were babes in the woods."
Protter added that accidents and death go with the territory, and that he personally has had five friends die in five separate avalanches, not to mention three who died in kayaking mishaps and two others in climbing incidents.
"If you read the annals of mountaineering, all sorts of very-together people get hurt or killed. But Peter is a bit of a survivor."
Chrzanowski himself is undeterred by criticism that he has put himself and others in harm's way too often.
"Everybody has critics. And my hat's off to them. No hard feelings. When your name gets out there, you have more friends but you also have more enemies."
Chrzanowski was born in Poland, the son of two academics who put him on skis at the age of three. "From that time, I started to worry," recalled his mother, Nina Chrzanowski. "I've never had one peaceful day in my life."
The family moved to New Brunswick, where Chrzanowski's parents taught university. The young Peter had language problems and was teased by other kids. He fought back and tried to make his mark by being a daredevil, recalled his mother.
"He wanted to prove that he was brave. He was always trying to organize other children to climb things."
During summers spent at a family cottage in Quebec, Chrzanowski would climb rocks and trees and persuade other kids to join him -- a habit that would follow him his entire life.
"Peter was like a monkey. He would climb to the top of trees and nothing would happen to him. But one boy fell and hurt his back and a girl broke an arm. The fathers got together and decided to bring down Peter's tree house because it was too dangerous for kids."
The young Peter was an avid reader and books instilled in him a wanderlust. When he was 14, the family travelled by car to Peru. He would later spend summers there, working with a surveying team and climbing mountains.
In 1978, at age 20, Chrzanowski skied down Huascaran, Peru's highest peak, with Jean Marc Boivin and Patrick Vallecant, French ski mountaineers and pioneers in the extreme ski movement. (Boivin and Vallecant would later die pursuing other extreme sports.)
Chrzanowski helped film the descent, giving him a glimpse into his future. "I saw that film-making could be a way to finance the ski mountaineering lifestyle."
At age 21, Chrzanowski returned to Peru, and launched an adventure that would earn him his nickname Peruvian Pete and kickstart his reputation as someone who takes on challenges that sometimes exceed his grasp.
Chrzanowski and a Peruvian skier, Americo Tordoya, attempted a first-ski descent on 20,000-foot Mount Ranrapallca. The ascent went fine but a few turns into the ski descent, Chrzanowski lost an edge and cartwheeled 700 metres down the icy, steep pitch, landing in a shallow crevasse. He was barefoot because his boots and socks had been ripped off by the tumble.
Tordoya found him, placed him in a sleeping bag and gave him tranquilizers. Chrzanowski dozed in and out of consciousness until rescued three days later. (Tordoya would die in an avalanche in 1983.)
Chrzanowski spent three weeks in a hospital because his feet were frostbitten. Miraculously, he didn't lose any toes.
In 1979, Chrzanowski moved to Whistler, which was becoming a mecca for big mountain skiers. The next year, Chrzanowski and another skier, Jacques Thibault, attempted a first ski descent on the north face of Mount Robson, the highest peak in the Canadian Rockies. The event had been hyped by a promoter and was followed by a large media contingent and four helicopters.
The descent quickly went awry when Thibault fell after skiing only 35 minutes, damaging his equipment. The attempt was "a huge debacle and Peter's reputation was in tatters," recalled Protter.
He gained more detractors in 1981 when a 28-year-old German was killed on a first ski descent with Chrzanowski on the west couloir of the Wedge, a peak just north of Blackcomb Mountain.
Meanwhile, Chrzanowski remained obsessed with Mount Robson. A second attempt in 1981 was halted because of bad weather. A third attempt resulted in a guide losing his hand to a helicopter blade. Then in 1983 Chrzanowski made a solo attempt on Mount Robson and succeeding in becoming the first to ski its summit, although he skied down the Kain face, rather than the north face.
When two Whistler locals, Troy Jungen and Ptor Spricenieks, became the first skiers to ski the north face in the late '90s, they dedicated their achievement to Chrzanowski.
In the early '80s, Chrzanowski enrolled in film-making at Simon Fraser University. Chrzanowski and a few ski-bum friends formed Extreme Explorations, and made a movie about a first ski descent down the 6,000-metre Popocatepeti volcano in Mexico. The movie was entitled The Search for the Ultimate Run and was later broadcast on the Discovery Channel.
In 1985, Chrzanowski and three other skiers ascended Mount Waddington, B.C.'s highest peak, and became the first to ever ski down its summit.
Among his group was Trevor Petersen, who went on to become one of the most celebrated free skiers in the world. Petersen died in 1996 after being hit by an avalanche on Mount Blanc in France. Chrzanowski would later produce a film called The Spirit, which was dedicated to Petersen and examined the extreme ski pursuits of three young Whistler skiers.
In 1998, Chrzanowski and others staged a six-week expedition to the Sierra Nevada de Santa Marta in Colombia. Chrzanowski's fascination with the coastal mountains in Colombia stemmed from an article he read about them in National Geographic magazine when he was 12 years old.
Chrzanowski's passion remains what he calls "mountain culture." He tries to go beyond regular ski porn, and place skiing in a broader social context.
To that end, Chrzanowski is currently trying to film Goldenrush, a movie about the gradual reinvention of Golden, B.C., from a resource town to ski resort. He's also working with other film-makers to produce a movie about the shrinking of glaciers because of global warming.
His old ski buddy Protter said that "mountains are Peter's form of expression, he's internalized mountains as metaphors to explain his special place in the world as opposed to all the other people who remain caught up in the rat race."
Chrzanowski remains single and without children. But he has a catalogue of films.
"When I undertook film-making I knew it would be hard. And I looked around at all the best documentary film-makers and many of them didn't really make it till they were 50 years old. And I thought, if it's going to take that long, I can't put a family through this."
"And when he's old and grey and in his wheelchair," said Protter, "Peter will be able to look back and say, 'I did those things, I was out there.' And most of his critics won't be able to say that."
From Outside Magazine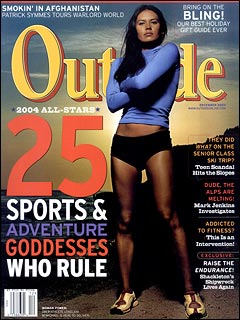 ADVENTURE FILMMAKER Peter " Peru " Chrzanowski is launching his first full winter of ONE-WEEK EXTREME FILMMAKING COURSES at Fernie Alpine Resort, in British Columbia, Dec 7-13 (three more courses will follow in February, at other mountains). The ONLY SUCH SCHOOL in the world, it will teach aspiring filmmakers all aspects of ACTION FILMMAKING , limited to ten students, the course costs $1702, which includes lift passes, meals, and accommodations. Contact: 604-468-1213

SKIPRESSWORD.COM Adventure Film School Comes To Fernie

http://www.canada.com/vancouver/theprovince

Risky business, Rewarding life by Bacchus, Lee

Extreme filmmaker heads up new course by Dana Michell

http://www.bowesnet.com/goldenstar/

Extreme film school a Golden opportunity By Julie Moorcroft

"Extreme" film making courses offered By David Burke