Afganistan Project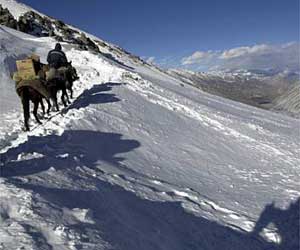 The high mountain passes in Afghanistan's outer reaches are also the major access routes for the United Nations relief supply convoys to this worn torn Country. In the winter months Himalayan scale storms fill the passes with snow. Military maneuvers and general combat subsides as the winter dictates it's own icy truce over the area. Traditionally the passes have remained closed. Getting aid to Afghanistan after the US led bombing campaign remains a priority for UN backed institutions. Therefore, the UN faced a serious problem; how to get food and badly needed medical supplies to the Afghan population, now stricken by a vigorously hard and bitterly cold winter. This is a critical story of just how those passes are indeed kept open.
The local Afghan tribesmen are renowned for their endurance in hardship both in war as well as their natural environment. These people now in conjunction with international aid, are attempting to keep the supply line open through the long winter months. This is done with a great deal of toil, shoveling and ingenious planning. It all involves some creative engineering coupled with very basic avalanche control high up in the snowy domains of the alpine realm above.
This is a documentary of a team of Canadian avalanche controllers who interact with the local mountain culture where differences alone make the task so intriguing. Their work takes place high up on the ridge tops, sometimes thousands of meters above the weather-embattled highways. Here a group of alpine enthusiasts accompanied by alocal afghan contingent patrols the ridge tops, ski cutting lines into mountainsides, dropping snow-laden cornices and using locally engineered explosives. These are often re-made from all those discarded land mines and unexploded shell casings littering the Afghan countryside.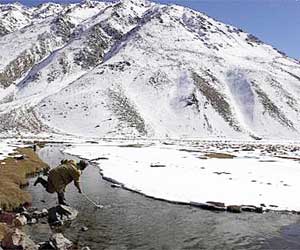 This is a tale of long and arduous work carried out in biting minus 20C cold. It is only their second year and there is a great deal for all of them to learn. The Canadian's task becomes even harder as they must also train the local Afghan help in proper use of equipment as well as mountaineering techniques to carry out their duties. Most of the local Mujihadeen are not well accustomed to traveling on snow as during the winter months the snow covered regions become virtually empty of human population. People retreat back into the deep valleys and the comfort of their village huts. The high alpine domain thus becomes a sanctuary only for those prepared for severe winter conditions. The film will follow the primary characters: Jean Philippe and Chris, two Canadian Ski Mountaineers usually based out of Chamonix France. They will be joined by a small crew of extreme filmmakers who are also well trained in avalanche protocol, Canadian search and rescue techniques and above all have a deep rooted passion for the mountains and the high alpine snowy environment which envelop them.
Canada's own avalanche control program goes back to the early 1900's when our own Rogers Pass had to be kept clear pushing through the railroad. Then, it was the Swiss guides who were brought in to help make this a reality and train the Canadians in mountaineering techniques. Since then, the pass still remains as a symbol of Canadian engineering wonder and is considered the world's leading authority in avalanche control technology. The avalanche teams of Rogers Pass protect both the railroad as well as the Trans Canada Highway, our crucial land links connecting the West Coast with the rest of the country.
The journey to Afghanistan will examine the impact of two decades of war and tragedy upon the Afghan people. The film crew will attempt to uncover the human sprit and character of a people with a will and determination to endeavor through any hardship. The film will thus document this entire captivating story through strong character driven individuals. The westerners now bring their knowledge and their inspiration to the other Afghanistan, the mysteriously dormant one covered by a blanket of snow in these winter months. The documentary will take an in depth look as to why these people have made these choices, laden with so much risk, bravery and uncertainty in a distant and hostile land.
CIDA Update - March 2002 Issue
Two Canadian experts working on avalanche prevention in Afghanistan At the beginning of the month of February, a large avalanche trapped the small city of Salang, situated in a valley 130 km north of Kabul, in Afghanistan. Hundreds of people foundthemselves imprisoned in their cars in the Salang tunnel, where a traffic jam lasted for five days.
Two Canadian snow-removal and avalanche-prevention experts--supported by CIDA, in partnership with CARE Canada and the World Food Program—were dispatched from their base camp at Fayzabad, further north, to the avalanche site. "We spent four days delivering emergency aid," recounts Jean-Philippe Bourgeois, the team's coordinator. "We helped women and young children who were stuck in their cars. These people hadn't eaten for two days and many needed medical attention."
Jean-Philippe Bourgeois, who comes from Drummondville, Quebec, and his colleague, Chris McGeough, from Calgary, have spent a lot of time leading mountain expeditions and preventing avalanches around the world. Since the beginning of winter, with the help of the local workforce, they have been clearing roads with a snowplow. Their work allows food aid convoys to get to regions that are not easily accessible.
But for the time being, Chris and Jean-Philippe will remain posted at Salang, where they are back to practising their "real" trade: evaluating the stability of masses of snow accumulation and setting off preventative avalanches.