Focus on filming winter sports - Skiing - Snowboarding- Mountaineering skills- English As Second Language
Emphasis: Having Fun through Eco Sensitive extreme sports filming/ awareness in fragile winter/spring mountain environment.
Duration: 1 Week courses, intensive seven-day program with limited options for longer apprenticeship programs ( longer programs available- case by case basis).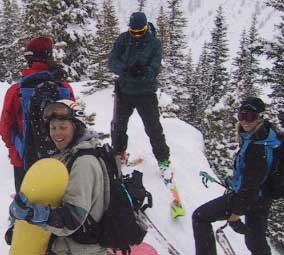 Prerequisites: Upper intermediate skiers/snowboarders; telemark & alpine in relatively good cardiovascular (hiking shape)
Age requirements: 19-35 year old unless with special arrangement by guardian
Result: - Students learn to produce short 3-6 minute film on Mini DV Video format -Diploma
Equipment list, Each student brings:
Own Mini DV camera, laptop computer with Editing Software (optional)
Ski , snowboard, telemark gear with backcountry touring capability if possible, i.e. touring bindings/skins /snowshoes-
Appropriate clothing, backpack
Avalanche gear: peeps, shovel, probe, helmet
Proof of Canadian medical insurance or foreign equivalent.
note : backcountry and avalanche gear available for rental . Enquire in advance
Format: Students would pair up with two to three students per filming group, sharing directing, shooting, producing, sound, action talent & editing tasks on each film produced per group. Students wishing to concentrate solely on honing action talent skills solely welcomed as well. The program is geared for English as second language students as well. Peterís films have already been used for tutoring at University of British Columbia.
The prospective emerging adventure filmmaker will go through the following stages:
1. INTRODUCTION / FILM THEORY: Brief theory and general history of film and video aesthetics. Every filmmaker must understand the basics of film and how the process began. The way filmmaking began and evolved in many ways emulates the way each of us as a filmmaker tones these skills.
2. CONCEPTION: This process would initiate a brief outline or conceptualize a story idea. Research would be stressed as to the feasibility of the original film idea. A target market would be developed as to where the film is going: ie film festivals, television broadcast, feature film documentary, dramatic feature film, industrials, travelogue, music video or the internet. (see marketing / distribution below)
The course would be divided into three categories:
A. Dramatic production (often fictional or re-enactment)
B. Documentary
C. Commercial/industrial. An art film may incorporate all three aspects into a special presentation.
3. PREPRODUCTION: Acting on the model chosen from one of the above categories, You would begin the arduous tasks of learning about the various processes involved in preparatory work. This would include:
Casting: The filmmaker would begin choosing his subjects for his or her film whether it be action models, actors or a combination of the talent
Format: The format of work would be chosen by the individual filmmaker. i.e. DV, Hi 8, Super 8, 16mm or combination of formats. Constraints may be placed here by the College as to the format available by equipment provided by the college. A filmmaker may be also allowed to bring and use their own camera and format in a careful study of each case by case scenario. Perhaps a lesser fee would be charged for students who bring and use their own cameras. The school could in turn provide some basic maintenance for the school's as well as a student's own equipment.
Crew: Although each student would be encouraged to produce/write and direct their own film, they would also be taught to work in various departments in other student's films i.e.: camera, editing, sound,grip, lighting, set design. Two to three students would be placed into small teams, each producing a film. All departments would be tailored especially for each outdoor production. For example besides directing their own film, each student could also have to participate in other skills with their fellow pupils.
Shooting schedule: A day by day schedule would be planned and developed by each team for each individual film from conception, through pre-production and through production and post. (editing).
4. PRODUCTION: Here the students would be introduced and walked through the actual filmmaking process, often deemed as the most exciting part of the course. After scripting, choosing their crews and talent, each student would embark shooting, on the project of choice. The subjects would vary of course with the seasons as for example in the subject of the highly popular extreme sports subjects when weather and mother Nature would play the decisive role. Each project would be supervised and " dailies " from each student film would be screened in a communal atmosphere with input and suggestions welcomed by other students as well as overseen by the instructor.
5. POSTPRODUCTION: The postproduction process would actually begin during production as each student would learn the vital organizational skills involved in:
Script breakdown:Matching the elements in the script to the production process
Cataloging : Coding, organizing all relevant shots to facilitate post later.
The assembly : The first rough edit or assembly, sometimes several hours in length before the chiseling process of the rough cut.
The rough cut: The final rough, locked rough cut of the finished picture, with rough sound and voice over.
The voice over: (useful but not necessary) as reality tv or The soundtrack: Composed and/or canned music and sound effects
The online or final cut: This would be done simultaneously with the final soundtrack.
Special effects/credits: Sometimes special effects such as maps, graphs, charts, slow motion, time lapse etc. would be encouraged to add to the motion picture.
6. DISTRIBUTION: Various aspects of distribution would be discussed, including:
Brodcast and cable Television
Home video
Film festival : i.e. as in Banff Mountain Film, Telluride Mountain Film, Festival of Maritime and Exploration films( Toulon, France etc.)
Sponsored or inhouse distribution: i.e. Industrial films, travelogues or films done specifically for a client with certain amount of copies distributed internally within an organization.
The internet : The newest and perhaps fastest growing of the distribution mediums would be discussed with models such as www.popcast.com, www.itv.net,www.atomfilms.com, www.Isyndicate.com. Since attention spans on the web would be shorter, a different strategy maybe designed as to production specifically for the web. E Commerce would be yet another element in selling VHS copies of respective films.
Using distributors or self distribution: The pros and cons of each would be discussed.
7. MARKETING: You may have a great film, but it's of little use unless people see it. An intensive marketing strategy would thus be encouraged defining further your market. (Or your market may have changed from your original vision due to budgetary or other constraints i.e. such as acts of the gods, lack of $, the law, the weather, etc.). Various marketing strategies using different mediums would be encouraged: including but not limited to cross promotion in:
Print media : Articles in papers, magazines, coffee table book, on-line magazines would be encouraged to promote the film. B. TV & Radio : Magazine shows, music videos, the use and production of shorts and teasers to help promote the film. Film Festivals , Premieres, Public showings and Film tours :Students would be instructed as to what festivals are best for their respective films. The internet : The internet would be highlighted as one of the most relevant tools for marketing one's film. Techniques in multi media would be discussed including basic web design, on-line magazines and other tools in creating a life around the film. i.e. The Blair Witch Project. Using distributors or self distribution: The pros and cons of each would be discussed.
7cont. E. GUERILLA MARKETING : You are a small time filmmaker and there are other non orthodox ways in letting the public know about your project : balloons, graffiti (just kidding) , parties etc.
8. FUNDRAISING: This is perhaps the hardest and most work intensive section of the filmmaking process. It may not sound like fun but unless someone hands you a budget and commissions a film, there are various methods of obtaining the crucial funds.
Broadcast presales
Matching funds /government agencies In Canada: Telefilm, BC Film,Rogers Telefund, Tax Credits etc.
Co-production deals: Facilities as contra deals.
Foundations and grands: These vary from country to country.
Private sponsors
Producent placement
Private investors: This field can be volatile but there is such a thing as "good will" investors who are happy becoming part of a project as i.e. Associate Producers in return for a lower % of return for their investment.
The entire program can be flexible and customize to each particular group week by week.
Questions about the course?
Contact Peter at petercperu@yahoo.ca