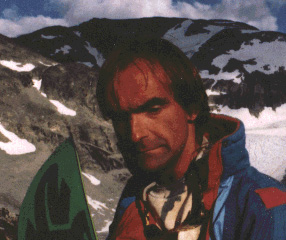 PETER CHRZANOWSKI: writer, producer and director, BA , DGC (Full Director-Directors Guild of Canada)

Peter is an adventurer specializing in high adrenaline action/adventure documentary films, dramas and photo-journalism. As a film-maker Peter has 25 years of international experience on a variety of productions and expeditions. He is also a major content producer with new media.

From a very young age Peter was exposed to a life of travel and adventure. By age fourteen Peter had accompanied his family overland to eighteen countries from Canada to Tierra Del Fuego, Cape Horn at the tip of South America. Today he claims this adventure sparked an early love for his work filming and writing about travel, climbing, skiing and adventure. Peter organized his first ski mountaineering expedition to Peru at age 17. He climbed and was the first to descend on skis a 19,000 ft. peak. By the age of 21 he was Associate Producer on his first film Ski Peru, which documents an attempt to climb and ski Peru's highest mountain, Huascaran. The expedition joined forces with famed French ski alpinists Patrick Vallencant and Jean Marc Boivin. The film went on to win the Golden Sheaf award at Yorkton International Film Festival. By 1983 while attending Simon Fraser University for Film and Communications, Peter founded Extreme Explorations.

Extreme Explorations began producing adventure films that involved climbing and skiing all over the world, from volcanoes in Mexico to BC's tallest mountains. They helped popularize the craze known as "extreme skiing" in North America. In addition to expedition films, commercials, shooting second unit on features, rock videos and action oriented industrials have been contracted. For commercial television, Peter has produced news magazine format show segments for a variety of programs including: The Journal, BCTV Newshour, and Bob Beattie Ski World on ESPN. Because of his extensive knowledge of BC mountain back country, he is a regular location consultant on various Motion Pictures. He has also obtained credits as Cinematographeron Ski School, an independent theatrical feature film.

In 1986 Peter headed a filmmaking team joining in the flight of Odyssey 86. This was a commemorative flight of the first DC 3 to circumnavigate the globe. The trip took two months and passed through 28 countries and fifty cities. In 1987 the film North Face was produced and released to Arts and Entertainment, CBC and the Discovery Canada proving the longevity of his documentaries.
The films which followed included Bungy Jumping, Reel Radical, Northern Rage and a weekly TV show in Whistler. In Reel Radical Peter paraglided off Mt. Waddington's icy summit. international audience. Ten years later the same
film aired on The film also featured world-renowned extreme skier, Sylvain Saudan. Then came more films including Valdez Goes Extreme in 1993 which received an award for " Creative Excellence " in the Chicago International Film festival. By 1994 Peter had co-produced, written and directed an entire eight half hour series for Outdoor Life and German Television entitled Whiteout. Peter's projects have included organizing The Multiglisse Traverse, a snowy version of the world famous Eco-Challenge endurance race. He has also consulted several major feature films as location consultant and acted as Associate Producer on Starlight, a dramatic feature starring Rae Dawn Chong, Billy Wirth and country legend, Willie Nelson.

Another recent film, The Spirit, dedicated to close friend and extreme skier Trevor Petersen has already won one award for " best documentary " in The Sea to Sky Festival in British Columbia, honorary mention in Toulon, France, Festival of Maritime and Exploration films and is making the rounds on the international mountain film festival circuit as well as broadcast and home video releases.

As a writer and photographer Peter has published in major ski and adventure publications as well as film and television industry periodicals. He speaks four languages: French, Spanish, Polish and English. Peter is currently writing, producing and directing a number of documentary films and television series as well as developing a dramatic feature motion picture. Most recently Peter has entered the world of the internet and is also producing an online live video and audio show about RISK on the world wide web. His last major documentary film just brought him back from The Sierra Nevada de Santa Marta, an exotic mountain range in Colombia. The location was his dream destination since he first read about it in the early seventies in National Geographic, August 1970 issue. It was also featured in NGS Secret Corners of the World book.
Peter is presently producing/writing & directing a documentary called GOLDENRUSH, the birth of a ski resort in Golden, BC and is also working with www.itv.net. Most recently Peter participated in the Crazy 8's film project and made his first short drama, a romantic comedy entitled " The Good Life "on location in Pemberton.
PETER CHRZANOWSKI, 1957 – HIGHLIGHTS : EXPEDITIONS, ATTEMPTS, MISHAPS, SURVIVAL AND SKI MOUNTAINEERING ACHIEVEMENTS ,
-1972-73 New Brunswick, Canada to Tierra Del Fuego and back overland by VW camper
-1975 Alaska Highway by same VW camper. It all began here …..
-1976 Exploration of Huajtapallana Range, near Huancayo , Peru
-1976 First ski descent Alpe'Dhuez, France direct ski line from peakinstead of tunnel route
-1976 Ski descents: couloirs ,some firsts: Les Deuz Alpes,Val D'Isere/Tignes, Parc National Des Ecrins, Fr.
-1977 First ski descent 6000m peak Huajtapallana, Peru . Extensive ski touring of surrounding glaciers
-1978 Ski descent above 20,000ft (6000+m) on Huascaran, Peru's Highest peak, with Jean Marc Boivin, Patrick Vallencant and Dominique Andre. See film " Ski Peru "
-1979 First Ski descent of Ishinka 5500m,
-1979 First Canadian ascent of Ranrapallca Peru with Amerigo Tordoya who is first Peruvian to summit 21,198ft (6000+m). Survived Major fall in excess of 2000ft, 700metres. Spends three days awaiting rescue.
-1979 Summer/fall First Ski descents of various Couloirs, Bow Summit
-1979 November : Attempts first descent of Anderson Coloir on Mt Temple, faulty crampon strap snaps and he survives 1700ft fall down ten metre couloir receiving only minor injuries.
-1980 First Ski Descent , West Couloir, Wedge Mountain 9500ft, Whistler
-1981-83 Various attempts for first ski descent of Mt Robson
-1983 August, First Ski Descent, solo climb, Mt Robson, Kain Face / Furher Ridge route
-1982 Ski Descent, North Face Mt Athabasca, Icefields Parkway
-1983 First Ski Descent , Ventorillo Route, Popocatepetl Volcano, nearly 6000m Mexico. Six week road trip
-1983-85 First ski descents in Coast Mountains, Ipsoot Range, North Face of Mt Serratus, Tantalous Range.
-1985 First Ski Descent / ascent from valley , Diagonal Couloir Mt Currie, Pemberton BC, Canada
-1984 Mt Waddington Ski Tour from Tiedman Glacier, Partial ski Descent of large Couloir off Mt Combatant , nicknamed named Alex's Couloir
-1985 Mt Waddington, First Ski descent off Angel Glacier (?) See" Mt Waddington Now" Film
-1986 The Odyssey, First circumnavigation of the globe by a DC3 Dakota aircraft. Trip took 60 days, spanned 28 Countries, 50 cities, crew of 11.
-1987 Back to Mt Robson, attempt on North Face , descents off Helmet, then Robson Glacier Route
-1989 Filming Northern Rage ,6 week snowboard Expedition through Western US Ski Resorts
-1990 First Paraglide descent off below North West Peak, Mt Waddington, BC's highest peak, three flights. Expedition includes Swiss French Skier Sylvain Saudan See "Reel Radical " Film
-1989-96 Early Paragliding exploits: The Lions, BC, Squamish Chief, Whistler, Blackcomb, Pemberton,Joffre Chilliwak, Chugach Alaska, North Face Aguille Du Midi, Mt Blanc France,
-1991-98 Judge of WESC (World Extreme Skiing Championshis, Valdez , Alaska ) , Judged eight years. Also Judged US Extremes w/ Anselme Baudat Crested Bute, Co. and Red Bull Extremes in Chamonix , France.
-1992 First Ski descents in Alaska's Chugach Range, heli access: ie North Face of Mt Diamond, 9000ft
-1994, March , First Ski Descent, second ascent " Siberian Express "1000m vertical Couloir off Mt Atwell BC
-1995 Western Tour: Prom, Vancouver BC's Expo 86 in six week road trip across North American Ski REsorts
-1995 Organized First of a kind Ski Mountaineering Race of , dubbed " The Traverse", a five person team race across 85km Pemberton Icecap. Only one team finished. Organizer broke leg / med evaced out by heli.
-1996 Ski Touring and steep descents in Chamonix, La Grave, filming " The Spirit " for Trevor Petersen.
- 1997 Aug-Sept - Treks Annapurna Circuit Nepal as part of Everest N. Face Expedition. Aborts Expedition and treks skiing/boarding three glaciers w/Pawel Boryniec in Gokyoregion upto 6000m elev.
-1998 Climb/ski descent of Mt Blanc De Tacuil, Scary Paraglide Flight of North Face of Aguille Du Midi.
-1998/99 Christmas six week expedition to Sierra Nevada De Santa Marta, Colombia, Written up in National Geographic " Voices From The Summit " Chapter by Wade Davis. Also see Aug 1970 NGS mag.
Where idea originated when Chrzanowski was 12 years old. See film Journey To The Heart of The World
-1999One of few Ski descents of the " Skyladder "route - Columbia Icefields w/ Troy Jungen on Snowboard
-1999 Paraglide accident, breaks both ankles in Pemberton
-1999/2000 Six weeks overland to Baja California, w/ Ryszard Szafirski, legendary PolishClimber.
-2000-2002 Ski Tours in BC , ski descents in Dogtooth Range, Rogers Pass, Canadian Rockies, Whistler